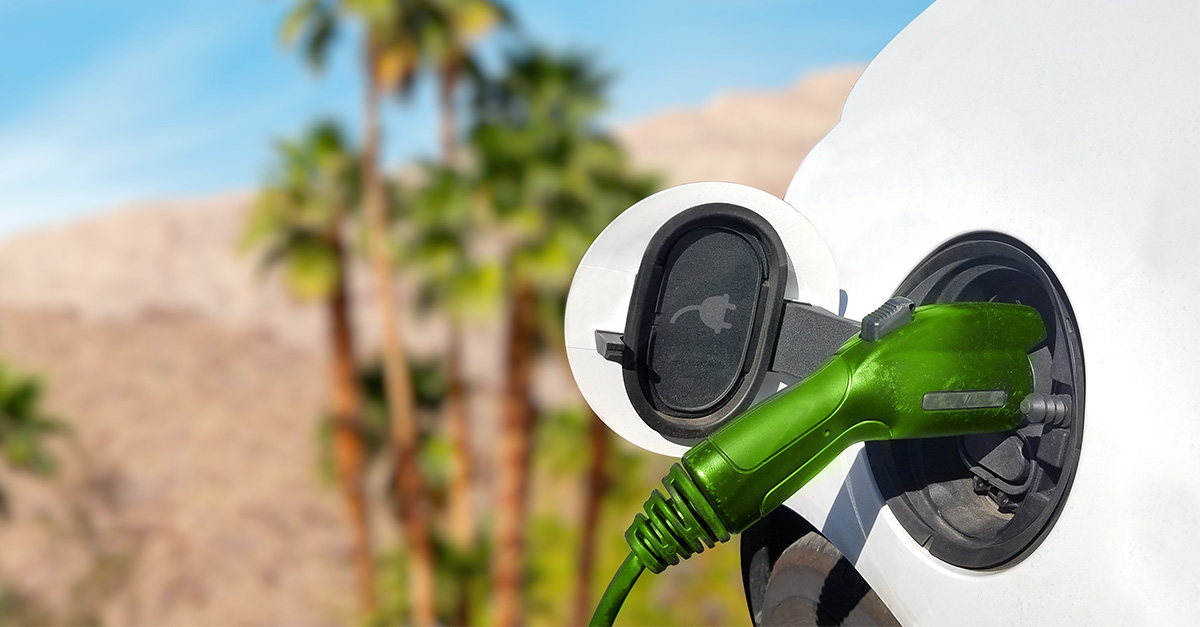 Electric vehicles continue to emerge as the way of the future. Learn how California incentivizes residents to purchase electric cars through the California Clean Vehicle Rebate Project.
What is the Clean Vehicle Rebate Project?
The Clean Vehicle Rebate Project (CVRP) is an initiative promoting the adoption of clean vehicles in California. Under this project, buyers can reap the benefits of a rebate ranging from $1000 to $7000 for purchasing or leasing a new or eligible zero-emission vehicle. The rebate extends to purchasing electric, plug-in hybrid and fuel cell vehicles.
With the shift away from gasoline and diesel-fueled vehicles growing daily, California hopes to increase the environmental and economic benefits of EV vehicles, such as less air pollution and reduced greenhouse gas emissions. Approximately $355,438,498 is available in general funding for eligible California residents.
Resident and vehicle eligibility criteria
In order to qualify for the EV rebate, eligible applicants must meet the following criteria:
Be an individual, business, nonprofit or government entity based in California or have a California-based affiliate when the rebated vehicle is purchased or leased.
Meet income eligibility requirements at the time application is received.
Submit a CVRP application prior to the exhaustion of available rebate funds and within three months of the vehicle purchase or lease date and while funds are available.
In order to qualify for the EV rebate, eligible vehicles must meet the following criteria:
Be on the list of

Eligible Vehicles

.

Be new, as defined in the

California Vehicle Code (CVC) Section 430

, and manufactured by the original equipment manufacturer (OEM) or its authorized licensee. Vehicles considered new solely to determine compliance with state emissions standards are not eligible.

Be registered as new in California. Vehicles may not be purchased, leased or delivered out of state. Purchases and leases must be made via a California purchase or lease contract. Vehicles ordered online and delivered outside of California are not eligible. The seller's address must be in California, as reflected on the purchase or lease agreement.

Have an odometer reading below 7,500 miles at the time of purchase or lease.
*Eligibility criteria provided by the California Clean Vehicle Rebate Project. Visit their website for more information or to view the full list of eligibility guidelines.
How does this affect sales and purchase propensity in California?
The short answer? It increases the likelihood and ability of Californians to purchase an electric vehicle.
By providing over $300 million in available funding, the California Clean Vehicle Rebate Project is making it easier for individuals, businesses, nonprofits and government entities to purchase an electric vehicle. This initiative opens the doors to a consumer market that has been slow to take off due to high prices and accessibility roadblocks.
With help from recent infrastructure legislation sparking the future of electric vehicles, the CVRP is already making a significant impact in The Golden State. In the last 12 months alone, sales of electric cars have jumped 3.7% in California. Similarly, the market share for electric vehicles grew to an impressive 10.32% in June. It's no surprise that with the assistance of these programs, the future is looking increasingly electric.
How can dealerships, lenders and marketing agencies use this to generate ROI?
The EV rebate isn't just opening doors for consumers. Dealerships, lenders and marketing agencies should also feel optimistic about its impact. The Clean Energy Rebate Project is putting purchasing power in the hands of California residents, which means more opportunities to close EV sales.
For dealerships, the rebate offers the ability to turn prospective buyers into higher EV sales quotas. Buyers now have up to a $7000 incentive to drive off your lot in a new ride.
For lenders, the rebate offers a helping hand to those weary or lacking the funds to finance a new electric vehicle. Show how the rebate combined with your loan can help make their dream car more attainable.
For agencies, there's never been a better time to buy electric. Utilize the CVRP as a unique selling proposition for your client's campaigns.
What can other states learn from California's rebate?
When it comes to being leaders in the clean energy race, California continues to be the exemplar. But that doesn't mean other states can't catch up by adopting their own EV rebate. The percentage of hybrid and electric plug-in vehicles purchased in the U.S. increased by 68.9% between February 2021 and February 2022, meaning there's plenty of momentum behind the growing EV market.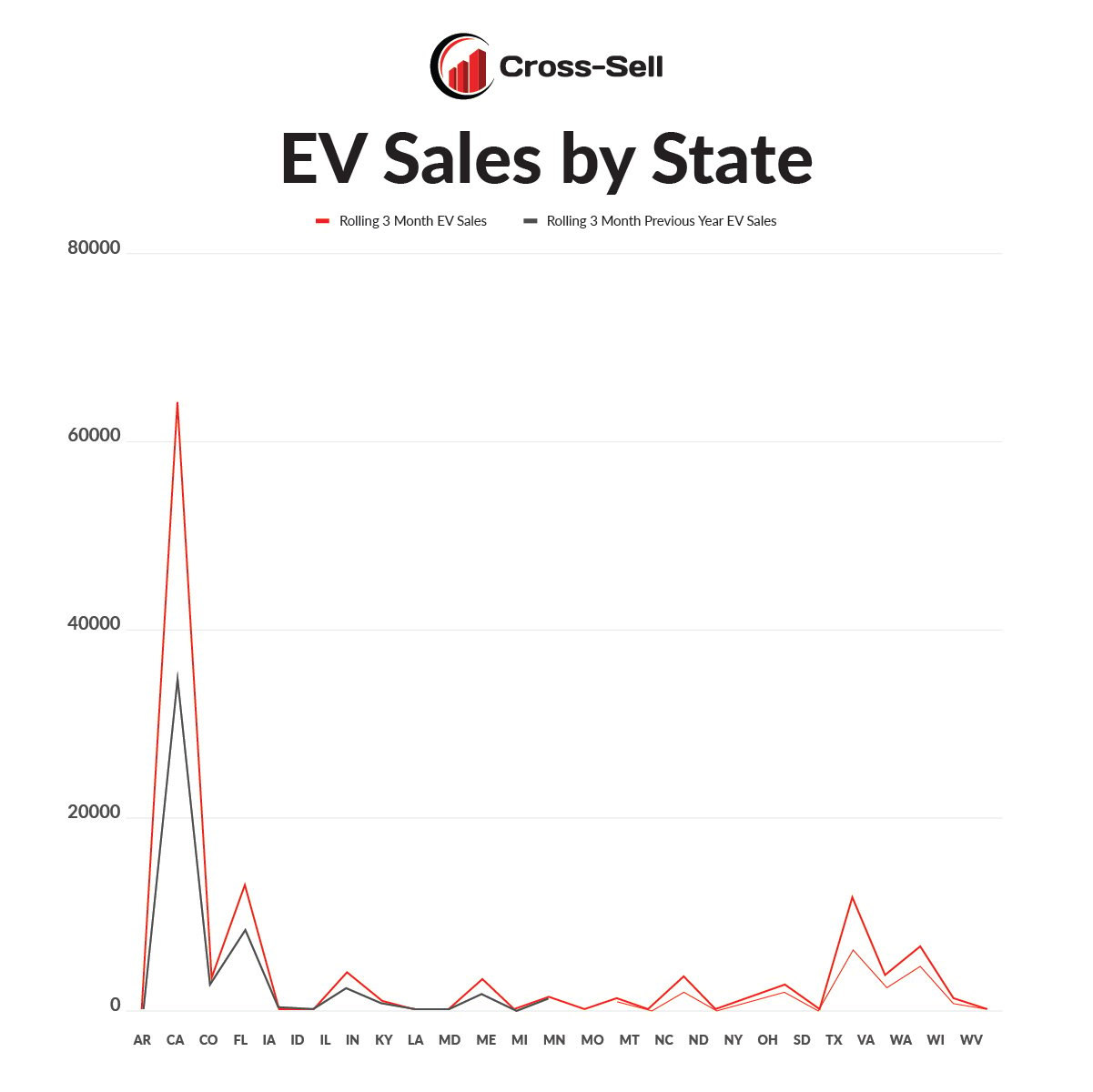 Alongside California, Arkansas, Colorado, Florida and Texas are also seeing booming EV sales. Offering incentives like the CVRP in other states can help spark electric vehicle sales across the country.
Get access to state-wide electric vehicle sales data
Want more information on the sales patterns of electric vehicles in your state? Cross-Sell interactive offers rich, actionable data reports on everything trending in the world of EV sales. Learn what brands and models are selling best, who's buying them and where with the help of Cross-Sell. Start today by reaching out for a free, custom quote for your market.
Auto Data is More Than Just Sales Trends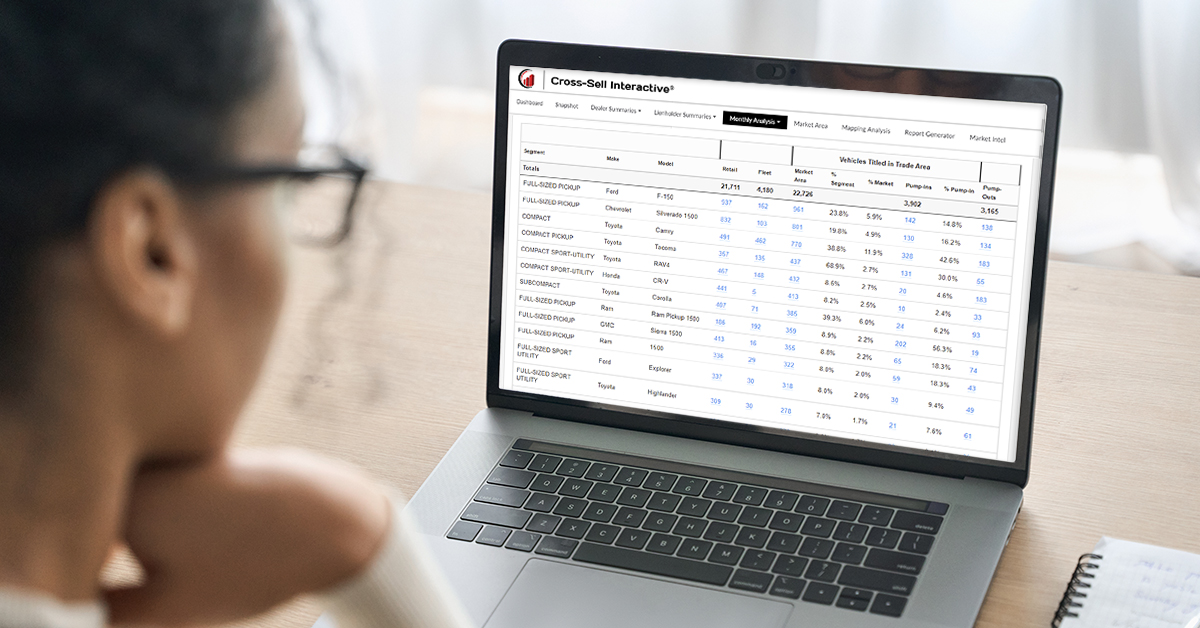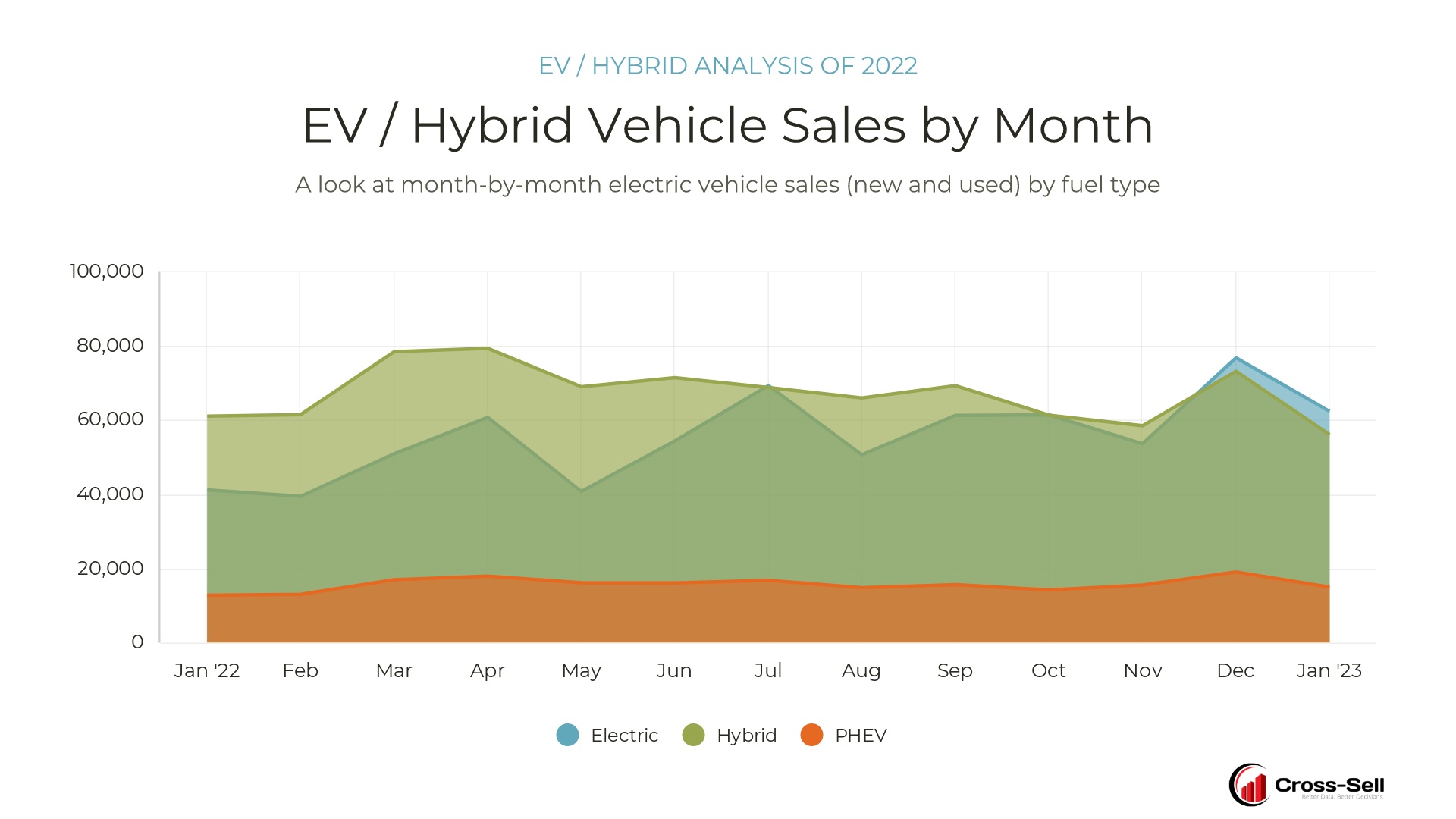 5 Things to Expect From EVs in 2023